Regular price
$37.98
Sale price
$19.99
Unit price
per
Sale 50%OFF
Sold out
Share
How do I use it?

Step 1: Prepare Your Trainer

Before you begin, ensure that your air resistance trainer is clean. Insert the mouthpiece in your mouth with the engraved word "top" at the base of the mouthpiece facing up. Bite down the inner sides of the mouthpiece to hold it in place.

Step 2: Proper Breathing Technique

Stand or sit comfortably in an upright position maintaining good posture, or use as a part of your workout routine. Adjust the resistance level to your desired level of breathing resistance (make it challenging, but not uncomfortable). Inhale deeply through the mouthpiece until you can't anymore, and then exhale through the mouthpiece until you're almost out of breath. Focus on filliny your lungs completely with air. This action engages your inspiratory muscles.

Step 3: Controlled Exhalation

Remove the unit from your mouth and breathe normally until you catch your breath.

Then repeat the above exercise 10 times to complete one set. Do 2 to 4 sets per day, preferably before any meals.
Where is the scientific research?

We have a page of medical journals on the benefits of using the OXYFIT™ Breath Trainer, you can find this here.
Is it safe?

Yes! Using our OXYFIT™ Breath Trainer is completely safe and uses safe materials! Research shows that inspiratory muscle training can lead to improved inspiratory muscle strength, increased lung capacity, and enhanced overall breathing efficiency. These positive effects contribute to better respiratory health and endurance with no adverse effects.
Ensured Quality

24/7 Customer Support

Free Shipping
View full details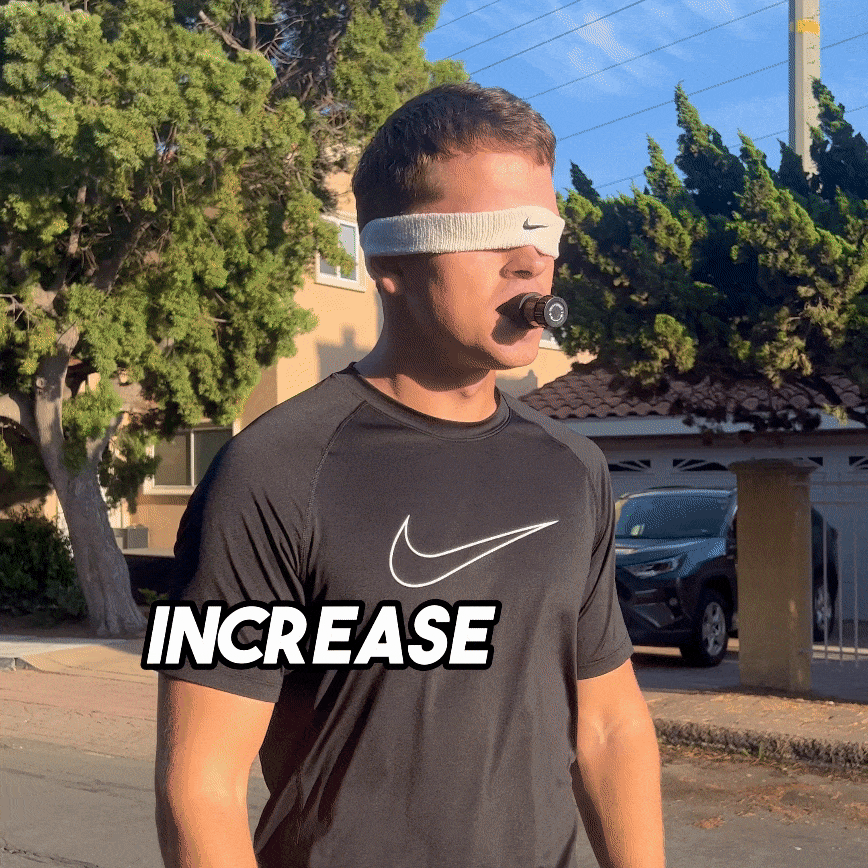 Breathe Deeper, Feel Better! 😤
Increased breathing time and reduced shortness of breath. Regular use of the OXYFIT™ Breath Trainer during exercise strengthens the respiratory muscles, resulting in increased endurance and improved overall breathing.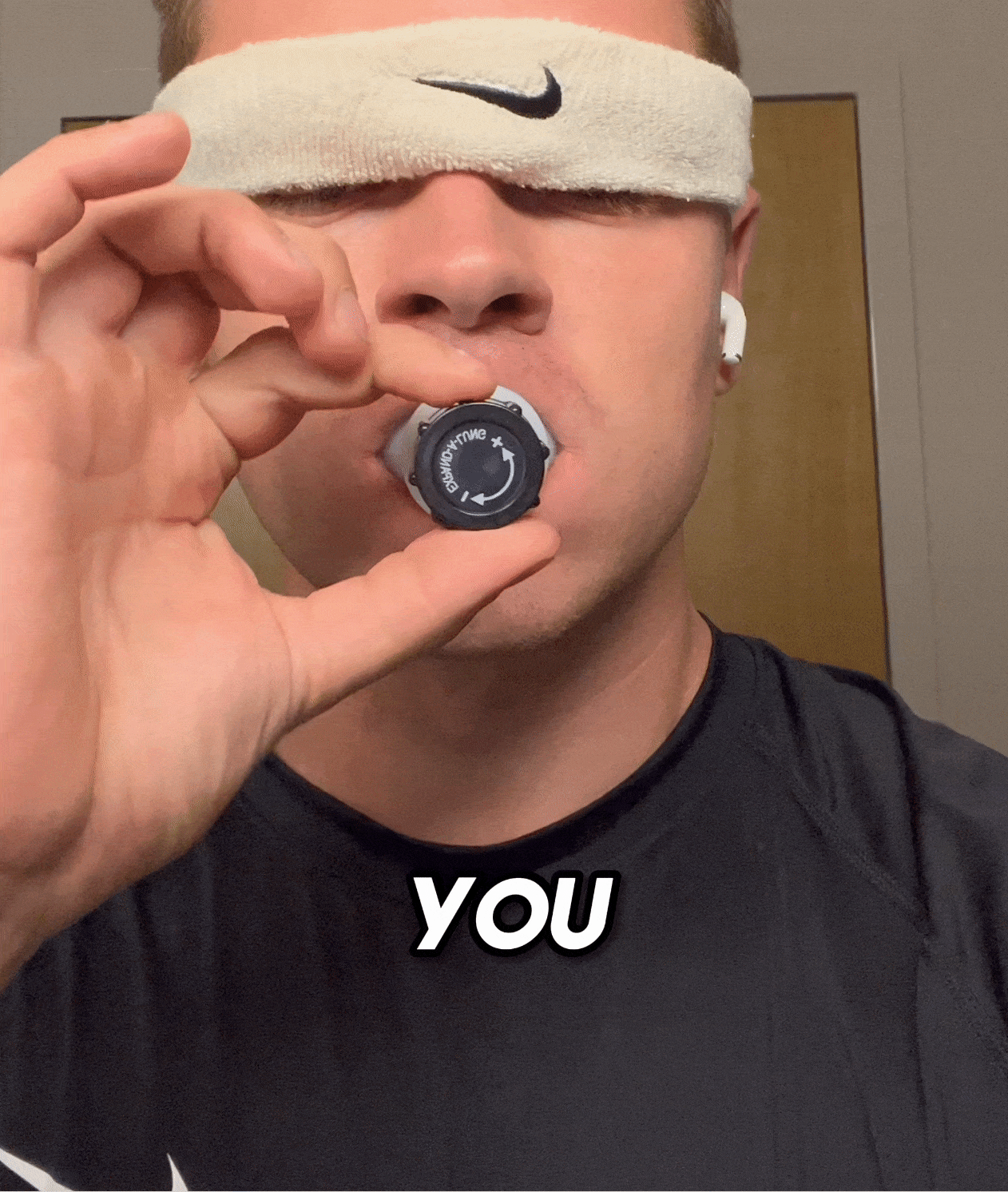 Control Your Airflow! 🔄 💨
By adjusting the airflow, you can customize your workout to suit your fitness level. You can increase or decrease the resistance to achieve maximum efficiency and enhance your lung capacity. This will enable you to breathe more comfortably and improve your physical endurance. Whether you are a beginner or an experienced athlete, this is perfect for you!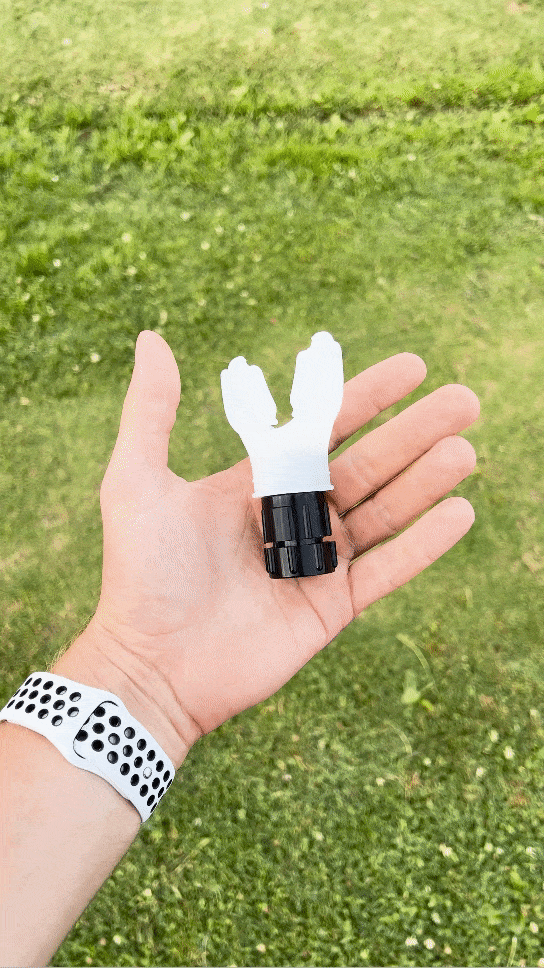 Take Your Breathing Trainer Anywhere! 😮💨
With its sleek and compact design, the OXYFIT™ Breath Trainer is your perfect on-the-go companion. Whether you're swimming, running, or even in the middle of a tough workout, this little powerhouse fits right in your pocket. It's like having your personal breathing coach always by your side!

Unlock Your Breathing Potential
💪 Boosts Stamina

The OXYFIT™ Breath Trainer - Cardio Edition air resistance trainer adds an extra challenge to your breathing during workouts. As you work against the resistance, your respiratory muscles must work harder.

Over time, this increases their endurance and capacity, allowing you to sustain physical activities for longer durations.
🌬️ Helps With Asthma

Respiratory muscle training reduces the 3 most common asthma symptoms: shortage of breath, chest tightness and wheezing/coughing. Researchers have found it helps improve effects of medication (Lista-Paz et al, 2023) and reduce attacks in children & teens (David et al., 2018).
🫁 Improved Lung Capacity

Training with the resistance trainer encourages deeper, more efficient breathing. This leads to a gradual expansion of your lung capacity, allowing you to take in more oxygen with each breath and hold your breath for longer periods. Stretching your diaphragm and intercostal muscles allows you to decrease the residual volume and increase the amount of usable air. This, of course, is good news for athletes, as well as patients with asthma or COPD.
😌 Reduced Fatigue

By consistently training with the resistance trainer, you can optimize your breathing technique. This improved respiratory efficiency leads to better oxygen utilization, reducing fatigue, and ultimately boosting your stamina for extended workout sessions.
🌬️ Helps COPD

OXYFIT™ Breath Trainer - Cardio Edition helps with less shortness of breath. A review of 43 studies with 640 COPD patients concluded that respiratory muscle training improved both inspiratory muscle strength and exercise capacity. As a result, chronic lung patients decreased their shortness of breath (dyspnea) and improved their quality of life, according to the researchers.

(Beaumont et al., 2018)
🏆 Master Your Performance

The air resistance trainer empowers you to take control of your breath, a fundamental aspect of fitness and well-being. By mastering your breath, you gain mastery over your performance, whether in sports, workouts, or daily life challenges. Your ability to control and optimize your breath will empower you to achieve new heights in your athletic endeavors and lead a healthier, more active lifestyle.
💪 Tone Your Core

The act of breathing against resistance engages your core muscles, particularly the diaphragm and abdominal muscles. As you repeatedly use these muscles during training, you'll notice increased strength and toning in your core area, helping you achieve more defined abs.
😴 Better Sleep

Meditative breathing patterns will allow you to relax and recover during the night and maintain a lower heart rate during exercise, so you recover faster in between efforts.
😌 Decreased Stress Levels

Meditative breathing patterns stimulate your Vagus nerve, allowing you to achieve better relaxation. From those who need to boost recovery between sports events, to those who work in stressful environments and need to relax after long days in the office.
📊 Proven Results

Develops Respiratory Muscles

Pull more Oxygen into your Lungs and Exhale more Carbon Dioxide
Adjustable Resistance Levels
Improve Endurance, Breath Holding and Shortness of Breath
🌿 Safe Materials

High-quality Silicone
Non-toxic, Odorless, Waterproof
Environmentally Safe
🎒 Portable

Light and Small
Pocket-Size
Detachable parts
🔄 One-Size Fits All

Fits all mouth shapes
Teeth grip texture
Flexible and comfortable
F.A.Q.
How long does shipping take?

Order Processing Time: 1-5 business days.
For shipments to the United States: 4 - 13 days.
International deliveries: Please allow approximately 4 - 17 days.

How can I track my order?

You'll receive emails with tracking links and shipping updates. You can also check our tracking page here.
How can i exchange or fix my order ?

If you want to setup an exchange or change your order, submit an email describing your issue here (refer to refund policy for more).
Let customers speak for us